The Sladen Consulting 'Butterfly Fund' supports organisations around the world who are furthering the cause of our chosen UN Sustainable Development Goals: 'Clean water and sanitation' and 'Life below water'.  We want to see our 'earning to give' rationale create a wider reach of impact, enabling the organisations we support to become even more of a force for change.  We call it our sustainable 'ripple effect'; we want our Butterfly to flap its wings and create ripples around the world.
We are doing this by using our core skills of coaching, facilitation and consulting to nurture influential and successful individuals and teams within these organisations who together will contribute to building a sustainable and thriving planet. It might be steadying the ship, navigating through unchartered waters, connecting the crew or guiding them through storms they are facing.
Sladen Consulting are proud to have supported PFP Global through the Butterfly Fund.
Power for the People (PFP) Global helps some of the world's poorest communities with projects that help bring access to education, clean water and electricity, food security, and sustainable livelihoods. A UK registered charity, it provides practical and environmentally clean solutions to providing these services, helping communities to be self-sufficient and sustainable. They tackle this through an on-the-ground approach, using 'Handshakes-not-Handouts', which is a concept we at Sladen wholeheartedly support.
An example of how PFP Global is providing self-sustaining aid to communities is shown in an ongoing project in Osupukai village in Kenya. Here PFP Global have established a reliable water supply from installing a borehole with solar-powered pumping and water storage of up to 20,000 litres for households. This installation has not only provided 520 people with access to safe, clean water, but also a sustainable source of income for the community. The women of Osupukiai run the compound and water users pay 20 Kenya Shillings (15p) for each 30L jerrycan of water. This has had ripple effects on the community, financing increased access to education, a new library and communication hub, as well as internet connectivity. Future plans also involve establishing goat farming and a ghee-making enterprise to generate further income.
The Butterfly Takes Flight
As Nasrin Sharifi, PFP's previous Chief Executive Officer, has recently become a trustee, Janine Edwards has stepped up to this exciting and challenging position. We wanted to help with the passing of the PFP leadership baton, by providing some leadership coaching to make this exchange as smooth as possible. We offered an 'Executive Coaching' package provided by our own Jan Brause, a bespoke product comprising of 6 coaching sessions where a range of conversations and meetings will take place.
Jan has a 30-year background in coaching within the private and public sector, as well as the third sector and charities. She is passionate about enabling leaders to make the most of their talents. With her membership of the Climate Coaching Alliance, her interest in climate and sustainability, and passion for bringing this conversation into leadership work at Sladen consultancy, she seemed like the perfect fit to coach the new PFP Chief Executive funded by the Butterfly fund. "It made sense in every way for me to support the 'ripple effect' that Sladen is having in foregrounding the Climate Crisis and water based Sustainable Development Goals", she says.
Jan worked with Nasrin and Janine as they explored the transition in PFP leadership, assessing in particular what the impacts may be. The great incentive in all of this is that in supporting the captain, it can also have a ripple effect on how PFP can pull together as a crew. The Coaching gave a safe space to pause and reflect – to unpick issues, thought processes and decision making before taking action. As part of this reflective journey, challenges were also talked through and addressed to gain a broader perspective. As well as acknowledging challenges, PFP's successes were also celebrated and built into future strategies.
To get a better understanding of how PFP's cogs move together as a working machine, our consultant Alex Germeau was also on board to lend a hand. Alex is a professional systemic coach and focuses on coaching teams in companies. For her, "making a difference to teams and people is so meaningful, therefore it was obvious that I could extend my expertise to charities such as PFP Global that support projects focusing on renewable energy and clean technologies."
Alex provided a 'High Performing Teams Scoping', whereby PFP Board members were interviewed to assess how PFP could go from good to great. Alex interviewed Janine, as well as some key colleagues and partners to get a better understanding of the PFP team dynamic. The objective was to understand more about the team and their relationships, with a specific focus on leadership – as well as assessing PFP's strengths (of which there are many), areas to work on and desired outcomes. This diagnosis enabled us to see how we could most effectively support PFP so that they can be as fruitful as possible.
The Ripple Starts to Take Effect
New CEO Janine Edwards' experience of her work with Jan on leadership coaching sessions was very positive. She describes feeling "confident in putting forward my ideas, challenging where needed, and making sure that I got what I needed from the day to lead our strategic development and implement our plans for the future." She also stated that the coaching made her transition to CEO 'much less stressful' compared to what her peers experienced. Janine admitted that in the past she was reluctant to ask for help, the coaching has helped cure this and improved her ability to articulate and ask for what she needs.
The coaching sessions also had ripple effects into the productivity of PFP Global, Janine said they have seen 'increased engagement across our social media channels, website and in our donor engagement events with a wider audience than the founder and Chair's networks.' There is hope that this will 'translate into more diverse income sources and a reduced reliance on the personal networks of the founder', showing potential impacts on the sustainability of the organisation.
As a result of the High Performing Team interviews, we were able to identify key areas of development for PFP's leadership team to consider. Central to this was applying the Golden Circle framework to help focus strategic thinking at Board level to differentiate between different elements of a strategy – the 'what', the 'how' and the 'why'.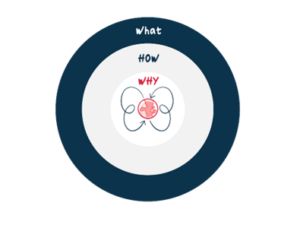 There was more than one "lightbulb moment" for the PFP team, thanks to Alex's work. We helped resolve issues that PFP had been grappling over the past year, such as what their vision of growth looked like and where they wanted their geographic focus to be.
We were so glad that in flapping our Butterfly Fund wings, we had a constructive influence on PFP's inspirational mission and we can't wait to see more and more lives become transformed by the organisation as it grows.